This just might be the Mother's Day gift of all gifts this year. 

The stunning Wellness Decanter and Mala necklace set is here.

I've already waxed poetic on how much I love our gem Decanters, and the beauty it brings to the home and mind. 

For Mother's Day, we are offering this exclusive set combined with our Era Decanter in our Wellness blend and our coordinating Bodhi Mala necklace, at an unbeatable price.

Put together, especially for Mom, the royal color Amethyst reigns supreme in this decadent gift set. 

It's the gift that will "keep on giving"  and delight Mom
and the whole family for years to come.

The beloved Amethyst is the principal stone for spirituality, opening the mind and stimulating the Third Eye, Crown, and Etheric Chakras.

Rose Quartz opens your heart and stimulates the Heart Chakra while balancing the yin-yang energy.

The coordinating necklace features 108 beads (8mm), including a porous lava bead as a carrier for aromatherapy oils, 925 Sterling Silver spacer beads, strung on extra-durable, elastic Korean string.

Without a doubt, this one is a winner.
 
Still on the fence?

Alright, we have a few more ideas here that might suit your moms personality and style.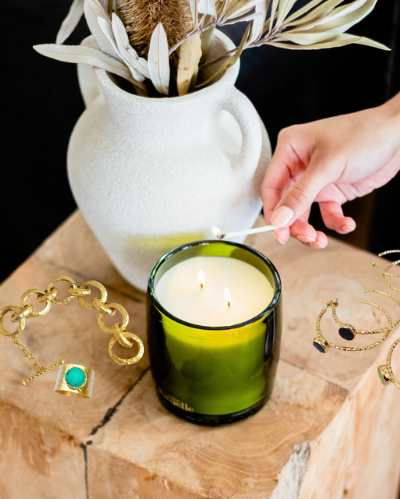 With the exception of our Nomadic State of Mind rope sandals,
(which happen to be made in Nicaragua and a lot of fun to wear).

These gifts are a one size fits all option that takes most of the guesswork out of your decision.
Okay, it's true, our beautiful artisanal Greek Leather Sandals do require a size to fit, and I am certain we can help you get it right.

  A quick message consult on your mom's current shoe size,
and a run down from us, of the 4 colors we have in stock for you will result in the perfect fit.

Otherwise, we have the best last minute Mother's Day gifts to fit your budget, just take a look at our gift guide and take it from there.